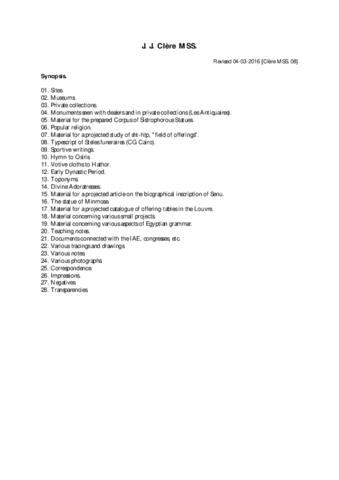 Área de identidad
Título
Jacques Jean Clère Collection
Fecha(s)
mid 1940s-1989 (Creación)
Volumen y soporte
63 boxes, and 15 folders of impressions. Also additional material consisting of 92 packages, 9 bundles of slip index cards, 3 large boxes, and 1 box containing 35 mm transparencies in rolls.
Área de contexto
Nombre del productor
(1906-1989)
Historia biográfica
French Egyptologist. Born, Paris 1906. Died, Paris 1989. Trained as an artist at the École Bernard Palissy and the École des Arts Decoratifs. First started studying Egyptology with Henri Sottas at the École Pratique des Hautes Études, 1924. Student, École du Louvre, 1925. Worked with Bruyère at Deir el-Medîna, and then with Bisson de la Roque at Madâmûd. Studied Egyptian language with Moret, Weill, and Sethe. Qualified in the history of religion, phonetics, Latin, Hebrew, Arabic, and Berber. Director d'Études at the École Pratique des Hautes Études, 1949. Visiting Professor, Brown University, 1951-2 and 1960-1. Wilbour Fellow, Brooklyn Museum, 1967. Published many linguistic articles as well as several monographs.
Historia archivística
Part of the estate of J. J. Clère.
Origen del ingreso o transferencia
Donated by his widow, Madame Irène Clère, in 1995.
Área de contenido y estructura
Alcance y contenido
Notebooks, notes, drafts of articles, teaching notes, xeroxes, card indexes, copies of inscriptions, impressions, photographs, negatives, transparencies, tracings, drawings, and correspondence.
Valorización, destrucción y programación
Sistema de arreglo
Mostly kept as received. Correspondence has been arranged in alphabetical order.
Área de condiciones de acceso y uso
Condiciones de acceso
Property of the Griffith Institute. No restrictions
Condiciones
Copyright Griffith Institute, Oxford
Notas sobre las lenguas y escrituras
Características físicas y requisitos técnicos
Instrumentos de descripción
Área de materiales relacionados
Existencia y localización de originales
These are originals.
Originals of MSS. group 04 in the Musée du Louvre (xerox copies in the Griffith Institute archive), together with a small group of miscenalleous notes, correspondence, prints, etc.
Existencia y localización de copias
Unidades de descripción relacionadas
Nota de publicación
-Publication details indicated in Clère catalogue.
Área de notas
Identificador/es alternativo(os)
Puntos de acceso
Puntos de acceso por materia
Puntos de acceso por lugar
Puntos de acceso por autoridad
Área de control de la descripción
Identificador de la descripción
Identificador de la institución
Reglas y/o convenciones usadas
Fechas de creación revisión eliminación
Objeto digital metadatos
Nombre del archivo
Clerecatalogue-_new_version_04-03-2016.pdf
Tamaño del archivo
30.2 KiB
Cargado
3 de noviembre de 2016 08:18
Objeto digital (Ejemplar original), área de permisos
Objeto digital (Referencia), área de permisos
Objeto digital (Miniatura), área de permisos