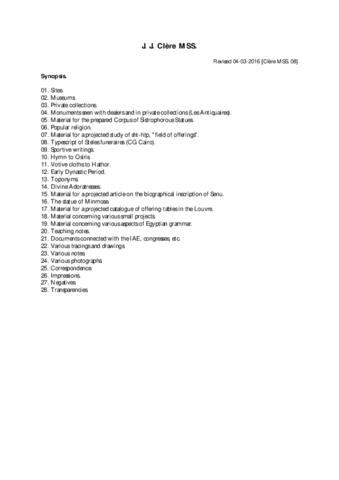 Bereich "Identifikation"
Titel
Jacques Jean Clère Collection
Umfang und Medium
63 boxes, and 15 folders of impressions. Also additional material consisting of 92 packages, 9 bundles of slip index cards, 3 large boxes, and 1 box containing 35 mm transparencies in rolls.
Bereich "Kontext"
Name des Bestandsbildners
(1906-1989)
Biographische Angaben
French Egyptologist. Born, Paris 1906. Died, Paris 1989. Trained as an artist at the École Bernard Palissy and the École des Arts Decoratifs. First started studying Egyptology with Henri Sottas at the École Pratique des Hautes Études, 1924. Student, École du Louvre, 1925. Worked with Bruyère at Deir el-Medîna, and then with Bisson de la Roque at Madâmûd. Studied Egyptian language with Moret, Weill, and Sethe. Qualified in the history of religion, phonetics, Latin, Hebrew, Arabic, and Berber. Director d'Études at the École Pratique des Hautes Études, 1949. Visiting Professor, Brown University, 1951-2 and 1960-1. Wilbour Fellow, Brooklyn Museum, 1967. Published many linguistic articles as well as several monographs.
Bestandsgeschichte
Part of the estate of J. J. Clère.
Abgebende Stelle
Donated by his widow, Madame Irène Clère, in 1995.
Bereich "Inhalt und innere Ordnung"
Eingrenzung und Inhalt
Notebooks, notes, drafts of articles, teaching notes, xeroxes, card indexes, copies of inscriptions, impressions, photographs, negatives, transparencies, tracings, drawings, and correspondence.
Bewertung, Vernichtung und Terminierung
Ordnung und Klassifikation
Mostly kept as received. Correspondence has been arranged in alphabetical order.
Bedingungen des Zugriffs- und Benutzungsbereichs
Benutzungsbedingungen
Property of the Griffith Institute. No restrictions
Reproduktionsbedingungen
Copyright Griffith Institute, Oxford
In der Verzeichnungseinheit enthaltene Sprache
Schrift in den Unterlagen
Anmerkungen zu Sprache und Schrift
Physische Beschaffenheit und technische Anforderungen
Bereich Sachverwandte Unterlagen
Existenz und Aufbewahrungsort von Originalen
These are originals.
Originals of MSS. group 04 in the Musée du Louvre (xerox copies in the Griffith Institute archive), together with a small group of miscenalleous notes, correspondence, prints, etc.
Existenz und Aufbewahrungsort von Kopien
Verwandte Verzeichnungseinheiten
Anmerkung zur Veröffentlichung
-Publication details indicated in Clère catalogue.
Bereich "Anmerkungen"
Alternative Identifikatoren/Signaturen
Bereich "Beschreibungskontrolle"
Identifikator "Beschreibung"
Benutzte Regeln und/oder Konventionen
Daten der Bestandsbildung, Überprüfung, Löschung/Kassierung
Digitales Objekt Metadaten
Dateiname
Clerecatalogue-_new_version_04-03-2016.pdf
Hochgeladen
3. November 2016 08:18
Digitales Objekt (Original) Bereich "Rechtsfragen"
Digitales Objekt (Verweis) Bereich "Rechtsfragen"
Digitales Objekt (Thumbnail) Bereich "Rechtsfragen"