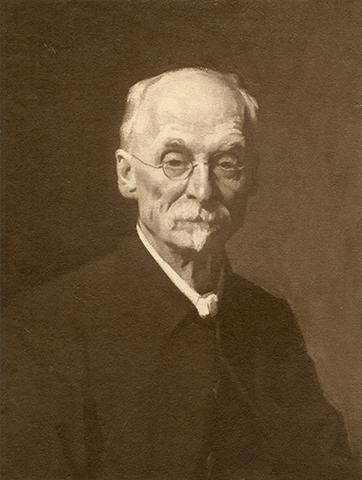 Zone d'identification
Titre
Archibald Henry Sayce Collection
Date(s)
1872-early 1930s (Production)
Étendue matérielle et support
Zone du contexte
Nom du producteur
(1845-1933)
Notice biographique
British Assyriologist. Born, Shirehampton 1845. Died, Bath 1933. Educated at Grosvenor College, Bath, then Queen's College, Oxford. Hibbert Lecturer, 1887. Gifford Lecturer, 1900-2. Professor of Assyriology, 1891-1919. Rhind Lecturer, 1906. Huxley Lecturer, 1906. D.Litt. LL.D. DD. Specialised in Carian and Hittite languages, as well as Assyrian and West Asian archaeology and philology. Also worked in Egypt copying inscriptions, etc.
Histoire archivistique
Material other than photograph album probably with Professor J. Garstang at the time of Sayce's death. The photograph album was in the possession of Professor J. Garstang before being passed to Professor O. R. Gurney. Packet of correspondence presented by Professor O. R. Gurney.
Source immédiate d'acquisition ou de transfert
Photographs album and other papers presented by Professor O. R. Gurney in November 1987; the packet of correspondence probably handed over at the same time (info. Dr Jaromir Malek). The rest of the material was presumably presented by Professor J. Garstang in September 1949.
Zone du contenu et de la structure
Portée et contenu
Notes, photographs, squeezes, correspondence, and offprints. Contain, amongst others, references to Assyriological, Greek, Cypriot, and Egyptological material. Includes notes made by Petrie which were with Sayce at the time of his death.
Évaluation, élimination et calendrier de conservation
Mode de classement
Presumably kept as received.
Zone des conditions d'accès et d'utilisation
Conditions d'accès
Property of the Griffith Institute. No restrictions.
Conditions de reproduction
Copyright Griffith Institute, University of Oxford.
Notes sur la langue et l'écriture
Caractéristiques matérielle et contraintes techniques
Instruments de recherche
Paper catalogue (not complete).
Zone des sources complémentaires
Existence et lieu de conservation des originaux
Existence et lieu de conservation des copies
Unités de description associées
Zone des notes
Identifiant(s) alternatif(s)
Zone du contrôle de la description
Identifiant de la description
Identifiant du service d'archives
Règles et/ou conventions utilisées
Dates de production, de révision, de suppression
Objet numérique - métadonnées
Taille du fichier
294.6 KiB
Téléversé
23 novembre 2018 01:35
Objet numérique (Matrice) zone des droits
Objet numérique (Référence) zone des droits
Objet numérique (Imagette) zone des droits