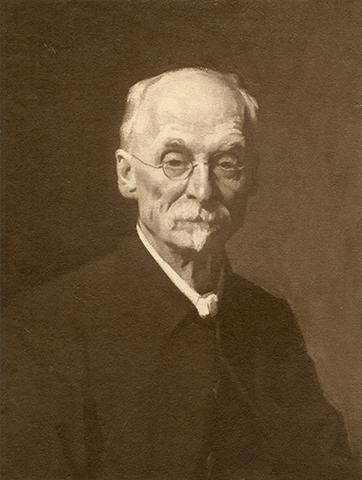 Área de identidad
Título
Archibald Henry Sayce Collection
Fecha(s)
1872-early 1930s (Creación)
Área de contexto
Nombre del productor
(1845-1933)
Historia biográfica
British Assyriologist. Born, Shirehampton 1845. Died, Bath 1933. Educated at Grosvenor College, Bath, then Queen's College, Oxford. Hibbert Lecturer, 1887. Gifford Lecturer, 1900-2. Professor of Assyriology, 1891-1919. Rhind Lecturer, 1906. Huxley Lecturer, 1906. D.Litt. LL.D. DD. Specialised in Carian and Hittite languages, as well as Assyrian and West Asian archaeology and philology. Also worked in Egypt copying inscriptions, etc.
Historia archivística
Material other than photograph album probably with Professor J. Garstang at the time of Sayce's death. The photograph album was in the possession of Professor J. Garstang before being passed to Professor O. R. Gurney. Packet of correspondence presented by Professor O. R. Gurney.
Origen del ingreso o transferencia
Photographs album and other papers presented by Professor O. R. Gurney in November 1987; the packet of correspondence probably handed over at the same time (info. Dr Jaromir Malek). The rest of the material was presumably presented by Professor J. Garstang in September 1949.
Área de contenido y estructura
Alcance y contenido
Notes, photographs, squeezes, correspondence, and offprints. Contain, amongst others, references to Assyriological, Greek, Cypriot, and Egyptological material. Includes notes made by Petrie which were with Sayce at the time of his death.
Valorización, destrucción y programación
Sistema de arreglo
Presumably kept as received.
Área de condiciones de acceso y uso
Condiciones de acceso
Property of the Griffith Institute. No restrictions.
Condiciones
Copyright Griffith Institute, University of Oxford.
Notas sobre las lenguas y escrituras
Características físicas y requisitos técnicos
Instrumentos de descripción
Paper catalogue (not complete).
Área de materiales relacionados
Existencia y localización de originales
Existencia y localización de copias
Unidades de descripción relacionadas
Área de notas
Identificador/es alternativo(os)
Puntos de acceso
Puntos de acceso por materia
Puntos de acceso por lugar
Puntos de acceso por autoridad
Área de control de la descripción
Identificador de la descripción
Identificador de la institución
Reglas y/o convenciones usadas
Fechas de creación revisión eliminación
Objeto digital metadatos
Tamaño del archivo
294.6 KiB
Cargado
23 de noviembre de 2018 01:35
Objeto digital (Ejemplar original), área de permisos
Objeto digital (Referencia), área de permisos
Objeto digital (Miniatura), área de permisos