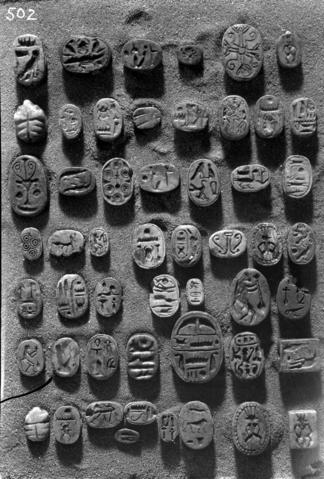 Zone d'identification
Titre
Guy Brunton Collection
Date(s)
1937-1948, card index 1958 (Production)
Étendue matérielle et support
2 card index boxes, 1 portfolio of drawings , 1 file of correspondence, and 1 box of print-outs
Zone du contexte
Nom du producteur
(1878-1948)
Notice biographique
British Egyptologist. Born, Beckenham 1878. Died, White River, Transvaal 1948. Studied Egyptology under Petrie and Margaret Murray. Between 1912-14 he excavated with Petrie at Lahun, and after war service again in 1919-21. He then excavated at Qau, Badari, and Deir Tasa before taking up a post in the Cairo Museum in 1931. He was assisted in his work by his wife, Winifred, an artist. After his retirement he returned to South Africa, where he died without having completed his work on button seals.
Nom du producteur
(1880-1959)
Notice biographique
British artist. Born, 1880. Died, Clocolan, Orange Free State, South Africa 1959. Married Guy Brunton in 1906. Produced water colour illustrations for her own publications, as well as for her husband's excavation reports.
Histoire archivistique
In possession of his widow Mrs. Winifred Brunton (1880-1959). She deposited the Matmar negatives in 1949. After unsuccessful attempts to find a candidate to complete the catalogue of button seals, the material was deposited in the Griffith Institute in 1956, where further work was done on it by J. J. Orchard, who produced the index.
Source immédiate d'acquisition ou de transfert
Negatives, Mrs. Winifred Brunton in 1949.
Preliminary work on button seals deposited at Mrs. Brunton's request in 1956.
Zone du contenu et de la structure
Portée et contenu
Drawings (by Winifred M. Brunton), letters, and working notes for a publication on button seals.
Negatives taken during the Matmar excavations in 1928-30.
Card index created 1958.
Évaluation, élimination et calendrier de conservation
Zone des conditions d'accès et d'utilisation
Conditions d'accès
Property of the Griffith Institute. No restrictions
Conditions de reproduction
Copyright Griffith Institute, Oxford.
Notes sur la langue et l'écriture
Caractéristiques matérielle et contraintes techniques
The nitrate negatives were scanned and the originals deaccessioned.
Zone des sources complémentaires
Existence et lieu de conservation des originaux
The paper documents are original. The nitrate negatives have been replaced by scans and print-outs.
Existence et lieu de conservation des copies
Scans (of nitrate negatives).
Unités de description associées
Note de publication
-The drawings, card indexes and correspondence form the basis of A. B. Wiese, <i>Die Anfänge der ägyptischen Stempelsiegel-Amulette. Eine typologische und religionsgeschichtliche Untersuchung zu der 'Knopfsiegeln' und verwandten Objekten der 6. bis frühen 12.</i> (PhD Thesis; Basel, 1995).
Zone des notes
Identifiant(s) alternatif(s)
Zone du contrôle de la description
Identifiant de la description
Identifiant du service d'archives
Règles et/ou conventions utilisées
Dates de production, de révision, de suppression
Objet numérique - métadonnées
Nom du fichier
Brunton_Matmar_photo_502_3700.jpg
Taille du fichier
2.8 MiB
Téléversé
4 novembre 2016 07:38
Objet numérique (Matrice) zone des droits
Objet numérique (Référence) zone des droits
Objet numérique (Imagette) zone des droits