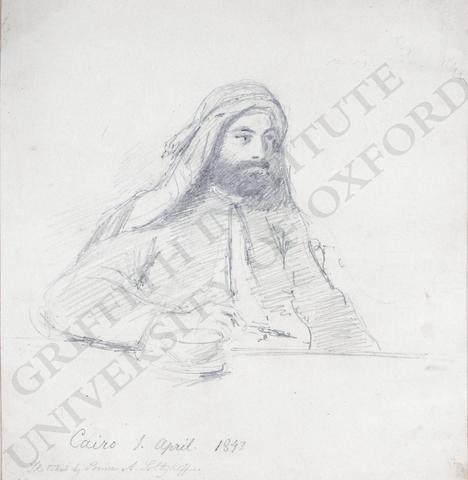 Área de identidad
Código de referencia
Lloyd MSS
Título
George Lloyd Album
Nivel de descripción
Colección
Volumen y soporte
1 album
Área de contexto
Nombre del productor
(1815-1843)
Historia biográfica
British botanist, excavator and traveller. He was probably born in India on 17 October 1815, the illegitimate son of Sir William L. of Brynestyn, a Welsh soldier and pioneer mountaineer, and an Indian lady. Lloyd was a member of the Cairo Literary Society and excavated at Thebes with Émile Prisse d'Avennes between 1839 and 1843. He died aged 27 in an accident at Qurna on 10 October 1843. His papers and botanical collections were given to the Botanical Garden of Montpellier.
Historia archivística
Previously in private possession, but owner not known.
Origen del ingreso o transferencia
Sotheby's, London. Travel, Atlases, Maps & Natural History, Sale L17401, 9 May 2017, lot 62. Acquired by the Griffith Institute at auction (£8,125.00) thanks to a grant from the Friends of the National Libraries (100%).
Área de contenido y estructura
Alcance y contenido
Album of watercolours, drawings, and tracings of Egypt produced close to the end of Lloyd's life. It is a folio volume (33 x 44 cm, pages 32.7 x 43 cm), containing 135 watercolours and drawings (74 of which are full-page and 1 folding) and 10 tracings (8 folding). They are all mounted and most are captioned either on the image itself or on the mount. Captions on the mount seem to have been added when the album was put together after Lloyd's death. The album also contains a loose watercolour, a loose drawing and a loose lithographed portrait of George Lloyd by Prisse d'Avennes, who published it in his Oriental Album: Characters, Costumes and Modes of Life in the Valley of the Nile (1848). One of the drawings in the album is a pencil portrait of Lloyd sketched by Prince A. Soltykoff.
Valorización, destrucción y programación
Sistema de arreglo
Kept as received.
Área de condiciones de acceso y uso
Condiciones de acceso
Property of the Griffith Institute. No restrictions.
Condiciones
Copyright Griffith Institute, University of Oxford
Notas sobre las lenguas y escrituras
Características físicas y requisitos técnicos
Conservation assessment in preparation. According to auction house's condition report: 'damp and water staining, re-backed retaining original spine, corners and edges rather rubbed'.
Instrumentos de descripción
Catalogue.
Área de materiales relacionados
Existencia y localización de originales
This is an original.
Existencia y localización de copias
Not known.
Unidades de descripción relacionadas
Área de notas
Notas


Original handwritten dated captions by George Lloyd have been identified on the verso of many of the items. Although not easily accessible due to the items being mounted, they have been read by the use of a backlight.
Notas


Pencil numbers (encircled or not) were added later, probably by dealer.
Notas


Some of Lloyd's drawings of wall reliefs and paintings from temples and tombs are idealised versions of what existed on the original monuments at the time when he recorded them, and he may have completed what had been lost, obscured or was uncertain. For example, on the verso of Lloyd MSS 074 he states 'All the heads of the women were effaced, it is said by Mr. Hay's draughtsman. I have restored the face, the band round the head, and the feet.'
Notas


Unidentified items (totally or partially): Lloyd MSS 025, 034, 037, 063, 074, 080, 086, 088, 094, 098, 101, 102, 103, 104, 106, 139, 140 and 145.
Identificador/es alternativo(os)
Puntos de acceso
Puntos de acceso por materia
Puntos de acceso por lugar
Puntos de acceso por autoridad
Área de control de la descripción
Identificador de la descripción
Identificador de la institución
Reglas y/o convenciones usadas
Fechas de creación revisión eliminación
Objeto digital metadatos
Nombre del archivo
Lloyd_096.jpg
Tamaño del archivo
1.5 MiB
Cargado
31 de julio de 2018 01:40
Objeto digital (Ejemplar original), área de permisos
Objeto digital (Referencia), área de permisos
Objeto digital (Miniatura), área de permisos