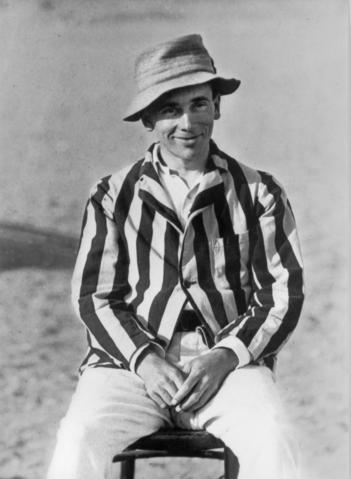 Bereich "Identifikation"
Titel
Thomas Eric Peet Collection
Umfang und Medium
5 slip index drawers and 4 boxes
Bereich "Kontext"
Name des Bestandsbildners
(1882-1934)
Biographische Angaben
British Egyptologist and archaeologist. Born, Liverpool 1882. Died, Oxford 1934. Studied Mathematics and Classics at Queen's College, Oxford. Jodrell Scholar. Craven Fellow, 1906, which enabled him to study archaeology in Rome. Pelham Student, British School in Rome, 1909. Entered Egyptology and excavated with P. E. Newberry at Abydos, and then in the Delta in 1909. Continued working at Abydos, 1909-13, at first with E. Naville, and eventually on his own. Studied Egyptian with Sir A. Gardiner and taught himself Coptic and Demotic. Lecturer in Egyptology, University of Manchester, 1913-28. Director of the Egypt Exploration Society's Excavations. Laycock Student in Egyptology, Oxford, 1923. Brunner Professor of Egyptology, Liverpool University, 1920-33. Reader and Professor designate in Egyptology, Oxford, 1933-4, but died before the appointment was confirmed. Fellow, Queen's College, Oxford, 1933. Specialised in the study and translation of papyri, especially those concerned with mathematics and Ramesside tomb robberies at Thebes. Edited the Liverpool Annals of Art and Archaeology, 1921 onwards, and the Journal of Egyptian Archaeology, from 1923. Published extensively in these publications as well as many others.
Bestandsgeschichte
The slip index drawers and notebooks were presumably passed to Sir Alan Gardiner after Peet's death.
Abgebende Stelle
Slip index drawers and notebooks formed part of the bequest of Sir Alan Gardiner. Small watercolour donated by Mrs Clare Newton (Peet's great-niece) on 28/06/2014. Group of family papers and ephemera donated by Mrs Catherine Barnes (Peet's great-granddaughter) on 29/10/2014. Some additional correspondence donated by The Queen's College, University of Oxford (the Peet Library) on 03/06/2019.
Bereich "Inhalt und innere Ordnung"
Eingrenzung und Inhalt
Index of Late Egyptian Grammar, index for Egyptian Dictionary, and various other indexes. 18 notebooks containing copies of hieratic papyri and ostraca. Small watercolour. 2 boxes of family papers and ephemera, including personal correspondence, certificates, photographs, notes for Peet's books on Neolithic Italy, a couple of pages from an inaugural lecture, newspaper cuttings, a travel record small notebook, a Latin and Greek classes notebook, etc.
Bewertung, Vernichtung und Terminierung
Ordnung und Klassifikation
Bedingungen des Zugriffs- und Benutzungsbereichs
Benutzungsbedingungen
Property of the Griffith Institute. No restrictions.
Reproduktionsbedingungen
Copyright Griffith Institute, University of Oxford.
In der Verzeichnungseinheit enthaltene Sprache
Schrift in den Unterlagen
Anmerkungen zu Sprache und Schrift
Physische Beschaffenheit und technische Anforderungen
Bereich Sachverwandte Unterlagen
Existenz und Aufbewahrungsort von Originalen
Existenz und Aufbewahrungsort von Kopien
Verwandte Verzeichnungseinheiten
Anmerkung zur Veröffentlichung
Bereich "Anmerkungen"
Alternative Identifikatoren/Signaturen
Bereich "Beschreibungskontrolle"
Identifikator "Beschreibung"
Benutzte Regeln und/oder Konventionen
Daten der Bestandsbildung, Überprüfung, Löschung/Kassierung
Digitales Objekt Metadaten
Dateiname
Griffith_Institute_photographs_Egyptologists_101_141_res600ppi.jpg
Hochgeladen
9. August 2018 08:35
Digitales Objekt (Original) Bereich "Rechtsfragen"
Digitales Objekt (Verweis) Bereich "Rechtsfragen"
Digitales Objekt (Thumbnail) Bereich "Rechtsfragen"