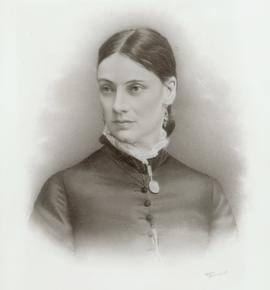 J. Lane MSS
Collection
c. 1876-1887
J. Lane MSS 1-3: Journals of Jenny Lane, lady's maid to Lucy Renshaw, travelling companion of Amelia A. B. Edwards, describing in detail their various trips including the 1873-1874 journey through France and Italy, crossing from Brindisi to Alexandria on the Simla, thence up the Nile to Dendara, Karnak, Luxor, Aswan, Philae and Abu Simbel, and the return journey via Port Said, through Lebanon to Damascus, Baalbek and Beirut, Constantinople, Athens, and the Rhine. They contain vivid descriptions of the landscape, weather and peoples, and anecdotes and observations of fellow travellers and places visited. They cover the period from 4 September 1873 to 6 March 1876. 286 pages in three volumes, calf, worn, 8vo.
J. Lane MSS 4: Photograph album put together following Miss Lane's two trips to Egypt and the Near East between 1873 and 1876.
J. Lane MSS 5: Collection of antiquities and miscellanea collected by Miss Lane during her trips.
J. Lane MSS 6: Three framed portraits (Jane Collins, née Jane Lane, George Collins [first husband], and George Lane [father]).
J. Lane MSS 7: Photocopy of marriage certificate for George Collins and Jane Lane (20 October 1879).
J. Lane MSS 8: Related documentation (three letters to the Martin family and two papers) by Brenda Moon.
Lane, Jenny