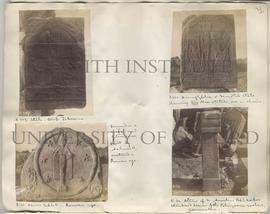 Petrie MSS 5.4.28
Item
9 December 1893-21 February 1894
-Qift (Koptos; Coptos).
Captions:
-K.109 Stele, temp. Tiberius.
-K.110 Hieroglyphic & demotic stele. Shewing two Min statues, one in shrine.
-K. 111 Osiris tablet. Roman age. Found in a chapel on S. of temenos, built by Aahmes II, restored in Roman age.
-K.112 Altar of M. Aurelius Bēlkabos standard bearer of the Palmyrene archers. Caracalla.