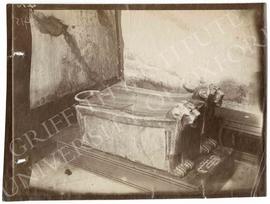 Petrie MSS 5.8.89c [loose]
Unidad documental simple
c.1886-1890
-Embalming-table with lions carved on the sides (Saqqara, step pyramid enclosure of Djoser, 'Tomb' 86 or "galleries of Mariette"; Cairo, Egyptian Museum CG1321 or 1322; probably Late period).
-This photograph is loose between pages 88 and 89. It is numbered 415 and of a slightly bigger size that the other photographs, which suggests it may come from another album.