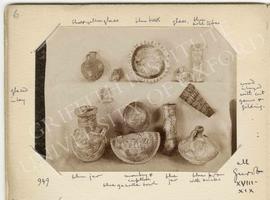 -Kom Medinet Ghurab ("Gurob"): objects made of 'faience' or glass.
-Main caption:
'all Gurob XVIII-XIX'.
-Items have been labelled around the photograph as follows:
'blue & yellow glass'
'blue bowl'
'glass'
'blue kohl tubes'
'glazed inlay'
'wood inlayed with cut gems & gilding.'
'blue jar'
'monkey & captive'
'blue gazelle bowl'
'blue jar'
'blue pot with ducks'.