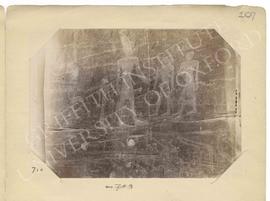 Petrie MSS 5.8.107a [upper]
Unidad documental simple
1887
-Wadi el-Shatt el-Rigal: rock-inscriptions including 489, with a king Antef before Mentuhotep II.
-Caption:
'as 709'.
This photograph is in a section titled 'VIII Soba Rigaleh, inscrips.'.
-At back of page there is a pencil note: 'Proc Soc Bib Arch 3rd May 1881 with Pepi ins'.