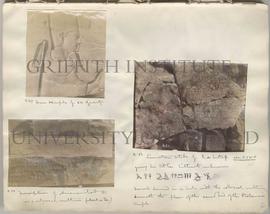 Petrie MSS 5.4.13
Item
9 December 1893-21 February 1894
-Qift (Koptos; Coptos).
Captions:
-K.49 From temple of XII dynasty.
-K.50 Inscription of Amenemhat III on a colossal vulture. (about a ton)
-K.51 Limestone steal of Ra hotep - see K.52-5 - giving his titles hitherto unknown [G5-V29-S34-G16-F12-s-r:a-M4-M4-M4-G8-M14-//] Found buried in a hole with the colossal vulture, beneath the floor of the sand bed of the Ptolemaic temple.