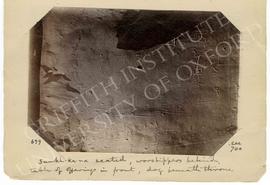 [699] S-ankh-ka-ra seated, worshippers behind, table of offerings in front, dog beneath throne
Petrie MSS 5.8.135b [lower]
Stuk
1887
-Wadi el-Shatt el-Rigal: rock-inscriptions, including scene with Mentuhotep III.
-Caption at the top of the page:
'Valley of the Soba Rigaleh; from W. end.'.
-Caption:
'S-ankh-ka-ra seated, worshippers behind,
table of offerings in front, dog beneath throne'.
-Also note: 'see 700'.
This photograph is in a section titled 'VII Silweh, inscrips.'.