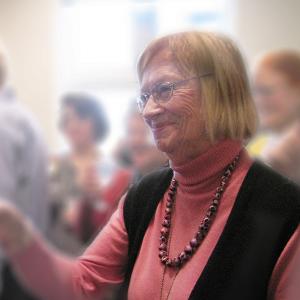 Zone d'identification
Titre
Diana Magee Collection
Date(s)
c. 1980s - 2010s (Production)
Étendue matérielle et support
Zone du contexte
Nom du producteur
(1936-2017)
Notice biographique
British Egyptologist; she was born in Isleworth, 2 Dec. 1936, daughter of Stanley Constable Mayhew, solicitor's clerk, and Noreen R. Harvey; she studied archaeology in London and Egyptology in Oxford, 1978-82; BA, 1982; DPhil, 1989, Asyut to the End of the Middle Kingdom: A Historical and Cultural Study; she worked in the Griffith Institute on the Topographical Bibliography and in the Archive, 1982-2004 and part-time thereafter, 2005-15; she visited Asyut and studied the tombs in the 1980s; she served on the committee of the EES, 1995-8; she helped to edit Vol. 8 of The Topographical Bibliography of Ancient Egyptian Hieroglyphic Texts etc., 1999-2012 and the collection of studies in honour of Jaromir Malek, Sitting Beside Lepsius, 2009; she died in Bexhill-on-Sea, 11 Feb. 2017.
Histoire archivistique
Formerly in the possession of Dr D. Magee.
Source immédiate d'acquisition ou de transfert
Dr D. Magee bequest; presented by Mr Alastair Malkin (nephew) on behalf of Mrs Jean Malkin (sister) in May 2018.
Zone du contenu et de la structure
Portée et contenu
Complete papers, including notes (DPhil), some photographs, small group of correspondence, etc.
Évaluation, élimination et calendrier de conservation
Zone des conditions d'accès et d'utilisation
Conditions d'accès
Property of the Griffith Institute. No restrictions.
Conditions de reproduction
Copyright Griffith Institute, University of Oxford.
Notes sur la langue et l'écriture
Caractéristiques matérielle et contraintes techniques
Zone des sources complémentaires
Existence et lieu de conservation des originaux
Existence et lieu de conservation des copies
Unités de description associées
Zone des notes
Note
-Recent accession, needs sorting, not yet available for consultation.
Identifiant(s) alternatif(s)
Zone du contrôle de la description
Identifiant de la description
Identifiant du service d'archives
Règles et/ou conventions utilisées
Dates de production, de révision, de suppression
Objet numérique - métadonnées
Taille du fichier
134.2 KiB
Téléversé
11 mai 2018 06:17
Objet numérique (Matrice) zone des droits
Objet numérique (Référence) zone des droits
Objet numérique (Imagette) zone des droits