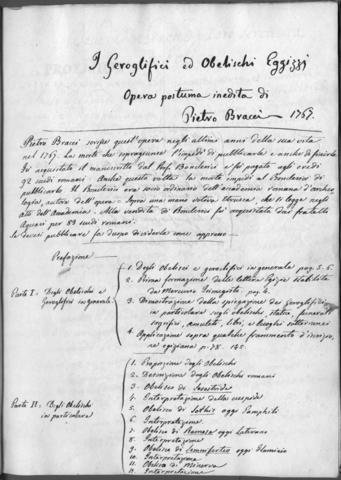 Bereich "Identifikation"
Identifikator/Signatur
Bracci MSS
Titel
Pietro Bracci Manuscript
Erschließungsstufe
Sammlung
Umfang und Medium
1 bound manuscript
Bereich "Kontext"
Name des Bestandsbildners
(1700-1773)
Biographische Angaben
Italian late Baroque sculptor. Born, Rome 1700. Died, Rome 1773. Among his most prominent works are the colossal Oceanus (or Neptune) of the Trevi Fountain and the sculptures of four funerary monuments in Rome: the tomb of Pope Benedict XIII in the Basilica of Santa Maria sopra Minerva, the tomb of Pope Benedict XIV in the Basilica of Saint Peter, the tomb of Maria Clementina Sobieski, wife of 'The Old Pretender' James Francis Edward Stuart, also in the Vatican, and the tomb of Cardinal Giuseppe Renato Imperiali in the Basilica of Sant'Agostino. He is also renowned for a group of busts and a significant number of drawings which are now dispersed among numerous museums and collections around the world, including the Canadian Centre for Architecture and the Musée des Beaux-Arts, both in Montreal, and the Ashmolean Museum in Oxford. According to historical inventories, he was also author of several manuscripts, most of them now lost, on a variety of subjects, including architecture, military engineering and sundials.
Bestandsgeschichte
Purchased by Monsignor Antonio Bonclerici (1801-1843) from Bracci's heirs in Rome. After Bonclerici's death, bought by the Aquari brothers (mid to second half of 19th century) in Rome. Later in the possession of Sir Alan H. Gardiner, who subsequently presented it to the former Ashmolean Museum Library (now Sackler Library). Thence transferred to the department of Egyptian Antiquities, Ashmolean Museum.
Abgebende Stelle
Received at the Griffith Institute from Mr Liam McNamara, Keeper of Egyptian Antiquities, Ashmolean Museum, 9th December 2011. Oficially transferred to the Griffith Institute by Dr Graham Piddock, Sackler Librarian, 12th June 2012.
Bereich "Inhalt und innere Ordnung"
Eingrenzung und Inhalt
Bound manuscript on Egyptian hieroglyphs and related topics (Roman obelisks, Iseum in Rome, Isiac pomp described by Apuleius, Egyptian rites, mummies, etc.). Left unfinished.
Bewertung, Vernichtung und Terminierung
Ordnung und Klassifikation
Kept as received.
Bedingungen des Zugriffs- und Benutzungsbereichs
Benutzungsbedingungen
Property of the Griffith Institute. No restrictions.
Reproduktionsbedingungen
Copyright Griffith Institute, Oxford.
In der Verzeichnungseinheit enthaltene Sprache
Schrift in den Unterlagen
Anmerkungen zu Sprache und Schrift
Physische Beschaffenheit und technische Anforderungen
No problems.
Bereich Sachverwandte Unterlagen
Existenz und Aufbewahrungsort von Originalen
This is the original.
Existenz und Aufbewahrungsort von Kopien
None.
Verwandte Verzeichnungseinheiten
Anmerkung zur Veröffentlichung
Bereich "Anmerkungen"
Alternative Identifikatoren/Signaturen
Bereich "Beschreibungskontrolle"
Identifikator "Beschreibung"
Benutzte Regeln und/oder Konventionen
Daten der Bestandsbildung, Überprüfung, Löschung/Kassierung
Digitales Objekt Metadaten
Dateiname
Bracci_000_titlepage_lr.jpg
Hochgeladen
4. November 2016 07:20
Digitales Objekt (Original) rights area
Digitales Objekt (Verweis) rights area
Digitales Objekt (Thumbnail) rights area